Having problems with this page, we lost pictures when updating website, hope to have it up with original pictures soon.
Normandox hound pack volunteered their time in the Bark for Life. We had a wonderful time walking the town of Tehachapi in efforts to raise money for cancer. Unfortunately cancer affect our canine loved ones as well. All monies raised will go to help cure our canine companions and go toward research for cancer. This was the first annual Bark for Life held here in Tehachapi, and we are looking forward to many more years of support. Please come join us next year.
This is me and my boy T-Bone at the bark for life, dressed up in his cute GE outfit.
I'm always on the bottom of the dog pile!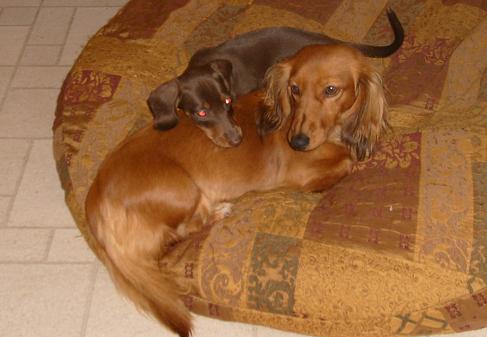 Our Chocolate and tan girl Bonnie with our red cream girl Hennie.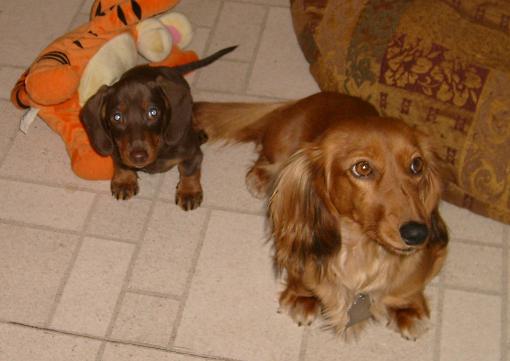 BUBBALOU, JADE & JIMMY HAVE A NICE DAY IN THE MOUTAINS.JADE IS A BORDER COLLIE/KELIE CROSS. JIMMY IS AN ISABELLA AND TAN PIEBALD SMOOTH COAT DACHSHUND
T-bone definetly knows who to snuggle up to to stay warm.
KAYLEE AND JIMMY, CHILLIN ON THE COUCH
THE THREE AMIGO'S
Caesy, black and tan piebald smooth coat mini doxie Meme, Black and tan dapple longhair dachsie.
THIS IS CASEY PLAYING WITH DAISEY'S PUPPIES.
Ollie, one of Casey's puppies is a black and tan mini doxie.
DOES'NT OLLIE LOOK COOL IN HIS BAD DOG COSTUME? THANKS MARINA.

HERE IS DAISEY WITH HER DAD, WHO SHE ABSOLUTELY ADORES. DAISEY IS A RED PIEBALD DACHSHUND.
T-ROY LOVES THE PUPPIES TOO!!!!
This is cousin Lori Ann and cousin Coco.
Cousin Coco is a red smooth coat mini doxie. She's checking stuff out at the Tennessee river.
There's nothin like puppy love!
Who could say no to these 3 faces?
This girl loves her dad!!!!
Smooch
Everyone needs a nap after a hard days work.
Logan is a blue and tan dachshund, Casey is a black and tan piebald and Daisey is a red piebald.
long hair puppies, long hair doxie puppies, long hair dachshund puppy, dachsund puppy long hair, brindle doxie puppy, english cream puppy, black & tan doxie, red dachshund, isabella & tan dachshund puppy, piebald doxie, dapple dachshund, dapple dachsund, black and tan piebald, red piebald, isabella and tan piebald, dachshund breeder in california, california dachshund breeder, doxie breeder, dachshund breeder, breeder dachshund, california doxie breeder, dotson, dotsun, dachson.Normandox,mini dachshunds,dapple dachshunds,doxies,black&tan dachies,dotson,california,oregon,tennessee, doxies,blue&cream,dapples,blue&cream longhair dapple,chocolate & tan dapples,black&cream dapple,red doxie longhair,chocolate & cream,cream dapple,chocolate&tan,minature doxies,red doxies,long hair puppies,long hair dachshund pup,English creams,dachshund breeders,long hair doxies, doxies,longhair dachshunds,smooth coat doxies,dachshund puppies for sale Tennessee, dachshund rescue, doxie normandox,AKC miniature dachshund puppies,chocolate,dapple dachshund,dapple dachshund,piebald doxie, dachshund breeder,smooth coat dachsie,longcoat dachshund,doxie blue puppies,mini doxie,california doxies,california piebald puppies,dachshunds,dapple dachshunds, black&tan,chocolate&tan,blue dachshund puppy,dapple dachshund,silver dapples,cream dapple, chocolate and cream dapple, black and cream dapple, ee red puppies, red piebald doxies, Mississippi, Alabama.Kentucky.Arkansas ee red, chocolate based red,,a perfect dachshund