Welcome To Our Home Page (Closed on Sunday)
731-307-9518
iwannapup2@yahoo.com
Normandox AKC Miniature Dachshunds raises miniature dachshund puppies for the love and rewards it brings to us. We raise Dachshunds that are of the highest quality and will be excellent representatives of dachshund breed. We strive to insure that your new puppy will be of superior type, health and temperament. We take great pride in our Mini Dachshund Puppies!
These pups are not for sale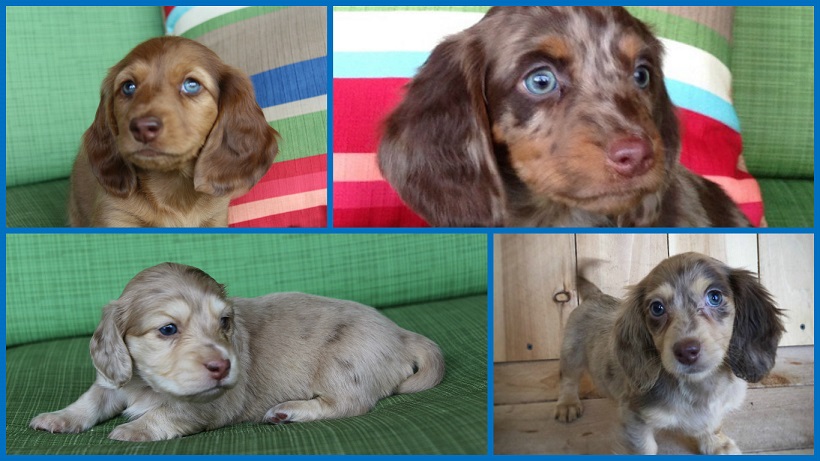 Hi I'm Lisa, my daughter-in-law Kayla and I are a small breeder of the AKC Miniature Dachshund. We specialize in smooth coat and long coat doxies, we have dachshunds in the dapple pattern and in the piebald pattern. We are located in Southern California, near Bakersfield, CA, in the Tehachapi mountains. My daughter-in-law and I are both employed full time, so this is more like a hobby and love for the Dachshund breed. We have a great pack of hounds and we love and adore each and every one of them. Since we find it most important to put the health of our doxies first (only breeding them annually) we only have a limited number of litters a year 3-4 at the most. Our goal is to consistently produce dachshunds with gorgeous conformation, intelligence and outstanding temperaments. Our wiener dogs come in all colors and coat patterns. We have black and tan piebald doxies, red piebald dachshunds, blue piebald doxies, Isabella piebald mini dachshunds, & chocolate piebald mini doxies, black and tan dapple doxies, blue dapple dachshunds, Isabella (fawn) dapple doxies, chocolate dapple dachshunds and Isabella (fawn) dapple dachshunds. mini dachshunds, dapple dachshunds, doxies, black & tan doxies, California doxies, blue & tan dapples, Isabella & tan dapple, chocolate & blue dapples, black & tan dapple, black & cream, chocolate & cream, cream dapple, chocolate & tan, minature doxies, reds doxies, Bakersfield, California dachshunds, English creams, breeders in California, doxies, long hair dachshunds, smooth coat doxies, puppies for sale in California, dachshund rescue, adopt a doxy. We also have a very nice English Cream female and are going to be investing in an awesome English Cream male.
All our puppies are raised in the house and under foot. Our miniature dachshund puppies are very well socialized, we take the time to love and handle each and every pup. Being raised in the house they are used to all the normal every day noises that go on in a household, which will help them adapt to your home that much faster. We also pre-crate train our doxies puppies to make life easier for you once your puppy is home.
Our puppies are given their age appropriate shot and dewormed, we also have dewclaws removed before going to their new home. We hope you enjoy our site if you have any question's feel free to email us or call Lisa @731-307-9518
Normandox,mini dachshunds,dapple dachshunds,doxies,black&tan dachies,dotson,california,oregon,tennessee, doxies,blue&cream,dapples,blue&cream longhair dapple,chocolate & tan dapples,black&cream dapple,red doxie longhair,chocolate & cream,cream dapple,chocolate&tan,minature doxies,red doxies,long hair puppies,long hair dachshund pup,English creams,dachshund breeders,long hair doxies, doxies,longhair dachshunds,smooth coat doxies,dachshund puppies for sale Tennessee, dachshund rescue, doxie normandox,AKC miniature dachshund puppies,chocolate,dapple dachshund,dapple dachshund,piebald doxie, dachshund breeder,smooth coat dachsie,longcoat dachshund,doxie blue puppies,mini doxie,california doxies,california piebald puppies,dachshunds,dapple dachshunds, black&tan,chocolate&tan,blue dachshund puppy,dapple dachshund,silver dapples,cream dapple, chocolate and cream dapple, black and cream dapple, ee red puppies, red piebald doxies, Mississippi, Alabama.Kentucky.Arkansas ee red, chocolate based red,,a perfect dachshund
4811
We have been raising dachshunds since 2007, we strive to stay as close to the AKC standards as possible and do our upmost to better the breed.